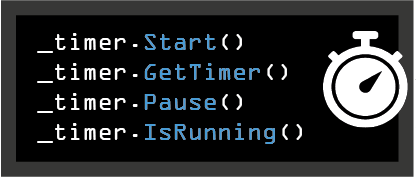 Every time you need a timer, you should use a custom timer like this one. The Invoke methodes & coroutine are not the best way to go if you just need a simple timer:
First, it uses memory process for nothing.
Second, it adds confusion in the code.
Third, you can't have the ability to Pause, Loop...
The solution is a simple Chrono script which can be started, paused, looped. I have created 2 class for 2 slightly different needs:
FrequencyChrono

It starts the time at 0 and goes forward (or backward, if your timeScale is negative !)

FrequencyCoolDown

it starts at X seconds, and goes toward 0
I use in both script the class
TimeEditor
to have the timers working in both Editor and Play mode.
More info here
. Furthermore, the use of the TimeEditor allows you to have a
negative
timeScale. In Short: go back in time !
If you don't want to use it, simply replace
TimeEditor
by
Time
.