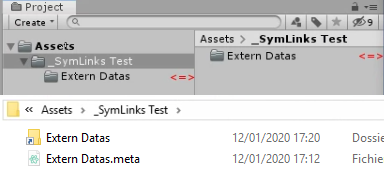 This devlog will show you how to have external folder inside your unity project. There are 2 main methods to have external folder:
Using symbolic links (can not be pushed in git)
Using jonctions (can be pushed in git)
We will see how to create jonctions. This script add also the nice functionality to visualize them, in a clever and optimized way.

You can visualize inside your project the files & directory inside a jonction thanks to the little indicator <=> and *, therefore be cautious about them when changing them.
You can even visualize in the hierarchy for a given gameObject if it has something related to a symlink folder:

- The main prefabs
- Any components
- Any fields or properties

For the safety of your projects and files, when working with jonctions and symlink links, always have a backup, or a save in a git repository.